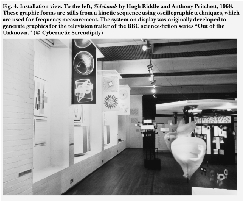 Critical voices: Cybernetic Serendipity
In: Usselmann, Rainer. The Dilemma of Media Art:
Cybernetic Serendipity at the ICA London. in:
LEONARDO, Vol. 36, No. 5, pp. 389–396, 2003.
A critical voice from Zagreb:
"The average visitor could do no more than suspect the
enormous possibilities of methods of computer projecting for the
needs of design in industry. All the same the initiative of the
Institute of Contemporary Arts in the exhibition of cybernetic
serendipity is valuable. The very fact of a more intimate contact
with examples of the use of new techniques is likely to have
started off, even through the quite general message of the
composition of the exhibition, a chain reaction of new ideas and
initiative for the creation of fresh elements in, and relations
towards visual communication."
Cybernetic Serendipity. Bit international 1 p.96
A critical voice from London:
"At a time when there is a widespread concern about computers, the advertising and presentation of the
'Cybernetic Serendipity' exhibition as a 'technological fun-fair' is a perfectly adequate
demonstration of the reactionary potential of art and technology. No end of information on computers
no hint that computers dominate modern war; that they are becoming the most
totalitarian tools ever used on society. We are faces by this prospect-whilst more and more scientists are
investigating the threats that science and technology pose for society, artists are being led into a
technological kindergarten, the idea being that the artist can amuse himself and some other populace with
the gadgetry of modem life."
Metzger, Gustav

. Automata in History. Studio International March 1969, 12/6. Vo

l. 177 No. 907. p.107

-

109, p.108